What Is The Google Ad Grant?
A Google Ad Grant Tutorial By Google Certified Professionals
Maybe you've heard of the Google Ad Grant in passing, or you know a bit about the program but still have questions. We've got you covered with all the facts you'll need—from who qualifies to how it works behind the scenes.

So, what is the Google Ad Grant? Let's start with the basics:
What Can I Use The Google Ad Grant For?
The Google Ad Grant can help you meet the specific needs and goals of your nonprofit by connecting you with users who are searching for related services or information on Google.
Some of the most popular ways nonprofits use the Grant are to:
Grow a social enterprise
Promoting events
You can see explore even more ways nonprofits are using the Google Ad Grant effectively and creatively through our case studies. It's an incredible opportunity for nonprofits, but it has to be used the right way to be effective. To learn how to use Google Ad Grants, let's first dive into how the Grant works behind the scenes.
How Does The Google Ad Grant Work?
How Google Ads Works
Google Ads, formerly known as Google Adwords, is a platform that allows advertisers to create ads and show them to users based on their quality and how relevant they are to what the user searched. Grantees can only create text ads that show on Google's search engine results page, or the page that populates after someone enters a search on Google.
Here's an example of what a text-based Search Ad looks like:
The Grant cannot be used for Display Ads, or ads that contain graphics and videos, but don't worry: text-based ads can send just as high quality traffic to your website.
How A Google Ads Campaign Works
The objective of a Google Ads campaign is to connect users to your organization's website. There are three main components of a campaign: keywords, ads, and landing pages.
1. Keywords
The Google Ad Grant lets you show ads when someone searches for a keyword that you have in your campaign. Let's say you want to acquire volunteers for an upcoming event. After doing some research, you find that the following keywords about volunteering are commonly searched for on Google and add them to your keyword list: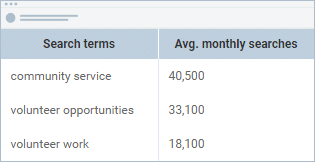 2. Ads
Once you have your list of keywords, it's time to create your ads. You'll write a few versions of your ads so that Google has options to show users and give you data on which ads perform best. When a user searches for a keyword in your list, your ad may show up in their search results.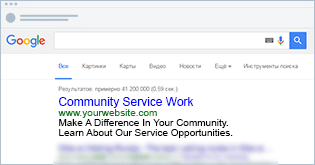 3. Landing Pages
When a user clicks your ad, they are sent to a page on your website that encourages them to take the action specified in your ads, such as sign up to volunteer for your event. Your website is the backbone of your Google Ads, so it's important to deliver a high-quality user experience.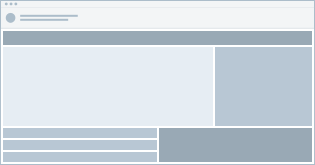 How The Ad Grant Budget Works
Google Ads uses a pay-per-click model, meaning you're only charged for an ad when a user clicks on it. When a user clicks your ad, the payment is deducted from your $10,000 in credits. And don't worry: Google will never charge you for going over the $10,000 in budget every month. If you spend the full credit, your ads will simply stop running until the following period.
In our experience, the average cost-per-click (CPC) hovers around $3.23. Every time a user completes a search, Google's algorithm calculates how much an ad click will cost based on the quality of your ad and the competition from other advertisers.
The Google Ad Grant is unlimited: Once you become a grantee, you will keep receiving that $10,000 credit every month—as long as your account complies with Ad Grant policy. 
How Ad Grant Account Maintenance Works
Since Google's ultimate goal is to give users the most useful and high-quality results possible, Google Ads for grantees are held to a high standard. Staying compliant with Ad Grant policy ensures your account doesn't get suspended. We recommend weekly check-ins to make sure your account is fully compliant.
Remember that the Google Ad Grant is not a "set it and forget it" resource. It takes time and effort to maintain a Grant account—not only to make sure you're compliant with policy, but to truly grow your impact and achieve your nonprofit's goals. To get the most out of your Google Ad Grant, you'll have to invest time in learning the Google Ads interface and optimize your ad campaigns every month to improve their performance.
If you don't have the bandwidth to manage a Grant account, professional account management can take the burden off your team, allowing you to focus on your nonprofit's initiatives instead. Learn more about professional Ad Grant management and check out our affordable month-to-month subscription plans.
Am I Eligible For The Grant?
It's important to ensure you meet Google Grant requirements before you submit your application. Check out our Google Ad Grants eligibility calculator – if your nonprofit fits the following criteria, you can be confident about your eligibility:
The Google Ad Grant is an incredible resource for nonprofits, and we encourage you to apply! Visit our free Google Ad Grants application guide to get started, and drop us a line if you get stuck anywhere in the process. Our team of Google Certified Professionals has never failed with an application, helping over 300 nonprofits secure the Ad Grant and grow their impact.
If you need help beyond the application, learn how to use Google Ads for Nonprofits through our blog. It's jam packed with Google Grants tips and tutorials for nonprofits, broken down in accessible language and written by Certified Professional in Google Ads.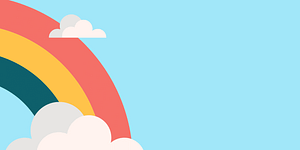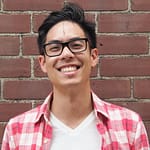 Over the past few months, it's been inspiring to see the resilience & resourcefulness of nonprofits in the face of crisis. I wanted to share
Read More »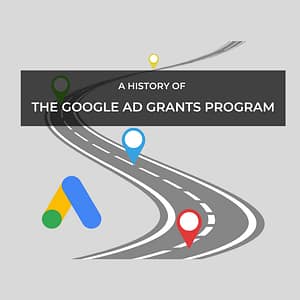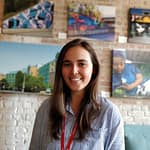 The Google Ad Grants program has been a driving force for more than 115,000 nonprofits in over 50 countries worldwide. Since its launch in 2003,
Read More »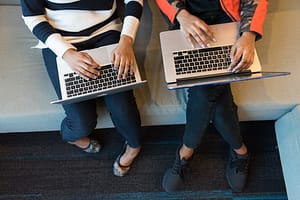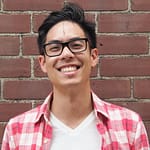 What Is The Google Grants Dashboard? In December 2019, Google launched the live "Google Ad Grants Account Review Dashboard"! This replaces the monthly compliance report
Read More »
Talk to a Google Ad Grants expert