Landing Page Optimization is marketing's latest buzzword, and here's why it matters for your nonprofit: Ad campaigns, Google Grant or otherwise, are the beginning of the journey and not the destination. While it's exciting to get clicks and traffic, it's important to keep the bigger picture in mind. An optimized landing page can be the deciding factor for whether your clicks result in conversions.
In this blog, you'll learn about the concept of landing pages and the basics of landing page optimization that can get you closer to the ultimate goal of increasing your valuable conversions, whether that's ticket sales, newsletter signups, or donations. Landing pages can make or break the success of any advertising campaign, so let's dive in.
The Difference Between Website Pages and Landing Pages
Despite the terms being used interchangeably at times, there are some major differences between Website Pages and Landing Pages. Website Pages are usually made up of general content that website visitors can navigate to and explore. Simply put, a Landing Page is a tightly focused page that's specifically crafted to highlight a single call-to-action.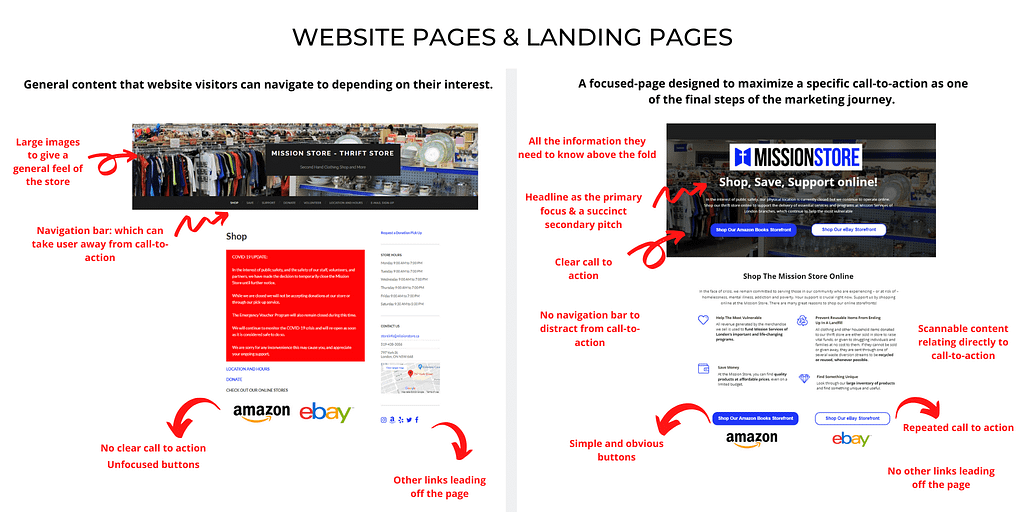 Website pages and landing pages work in conjunction with each other. Landing pages are not necessarily the better page – it depends on your intent for your page design. However, they are often the better choice for specific marketing campaigns with a single conversion goal in mind.
Best Practices For Landing Page Optimization
1. Tailor The Destination
You already know that a shipshape website is one of the foundations for successful Google Ads. Landing pages go one step further as a tailor-made destination for a campaign. Your ads and your landing page should be a match made in heaven. It may seem obvious to match your ads to the content of the destination and vice versa, but you would be surprised at the missed opportunities. 
For example, if you're running a special donation campaign to raise funds for your Literacy Nonprofit during Literacy Awareness Month, don't just settle for sending them to your generic, perennial donation page. Make use of a tailor-made landing page that highlights your initiatives for Literacy Awareness Month, your specific fundraising goal and any other relevant information.
Match the details down to the wording of your landing page and ad copy 

Build on your ads – if there was a question in the ad copy, answer it

Leave out irrelevant information and links that distract from the conversion goal ( more on this later)
2. Give Context
For many, working in a nonprofit or charity is not just a job, it's a labour of love. You know the ins and outs of the cause and why it's so important to support. But convincing a person who is not familiar with your brand to support or engage with you will take a bit more creativity. Context is especially key when asking for a donation. It's a big ask and users will need more context than a Google Ad and a donation submission form to become donors.
So, situate your ask in a way that makes sense to the reader. Give hard-hitting facts about why your cause is vital or urgent, and most of all, paint a picture of how they fit in and why their support is needed.
3. Acknowledge All The Angles
Think about your call to action from all angles of searcher intent. What are the reasons users  may want to carry out your call to action?
Shopping at a charity thrift store means supporting a cause but it's not usually the only reason, or even the main reason why shoppers may go to a thrift store. Thrift shoppers could be looking to save money, find something unique, or reduce their environmental footprint. If there are any other benefits to carrying out your call to action, don't forget to highlight them. 
4. Reduce Friction
Friction, in the sense of landing page optimization, means anything that could distract your reader and cause them to click away from the main goal. Most website pages encourage users to navigate around the site and are therefore not optimized towards one goal. Here are a few easy ways to reduce friction and keep users engaged on your landing page:
Skip the navigation bar or menu

Avoid large chunks of text or irrelevant information

Limit outbound links

Use only a single call to action
5. Check For Scannability
After ensuring all the content is 100% relevant to your call to action, and you've copyedited it so it's easily understandable, you want to make it scannable. Scannability is a key part of landing page optimization that improves the user experience. You only have 15 seconds or less to catch a reader's attention. That means many users are not reading your page word for word, they're scanning the page for key points before deciding whether to read on.
Bullet points, changes in colour and typeface, icons, and images are all great ways to break up the text and ensure scannability.
6. Make Use Of The Principles of Visual Hierarchy
You don't have to be a professional designer to effectively use the principles of visual hierarchy. Visual hierarchy is the way you arrange different elements on the page based on importance. You can do this through size, colour and contrast, typography, and more. 
You'll want to make sure your headline is the largest font on the page and that your call to action buttons stand out. Make use of your brand's colour palette to draw attention to the most important parts of your message. Lastly, use a layout that makes sense and brings the reader on a visual journey down the page.
Here's an easy formula:
7. Keep Important Items Above The Fold
In web design, the "fold" is the bottom border of the window. "Above the fold" refers to the section of the page which is immediately visible without scrolling. On website pages, precious above-the-fold real estate is often taken up by the navigation bar, images and other content that doesn't directly relate to the call to action. 
On your landing page, make sure you have an eye-catching headline, pitch, and call to action above the fold. Getting your ask in early is important as some users may not scroll any further down the page.
8. Repeat Your Call To Action
While your call to action should appear above the fold, that should not be its only appearance. Make sure your call to action, whether it's "Buy A Ticket" or "Donate Now," appears throughout the page. Two or three buttons should do the trick. You want to give your reader every opportunity to convert if they are ready. Using multiple buttons also gives you the chance to experiment with different ways to word your call to action.
9. Optimize For Mobile
A key step of landing page optimization is mobile page optimization. There are many statistics on the growing number of mobile users browsing the internet these days. Depending on your organization, the importance of mobile optimization can vary but there's no denying its increasing role in web browsing. Ensure that your landing page works just as well on mobile devices as it does on desktop. It's important that there are no strange gaps or unclickable buttons when your optimized landing page is viewed by mobile users.
10. A/B Test
The landing page optimization journey does not end when you publish your page. Data-driven optimizations are key to running a successful campaign, and can help you strategise how to improve campaigns in the future. Most third-party landing page builders have an A/B test function that allows you to test your hypotheses and figure out what works best. Here are a few examples of elements you can test:
The placement of your call to action

The wording of your call to action

The amount of information on your page

Aspects of scannability or aesthetics

The tone of your content (informational/emotional)
Limit each A/B test to a single aspect in order to get meaningful results and measure them against a control. Now you can check back on the best performer and continue to iterate and improve on your landing page design.