The Google Ad Grants program has been a driving force for more than 115,000 nonprofits in over 50 countries worldwide. Since its launch in 2003, the program has become much more complex, pushing grantees to significantly alter their approach to Grant account management. In this post, I'll highlight some of the key changes and how they impacted the Google Ad Grants community.
Timeline
March 2003
Google Ad Grants launches in the US 
When Google launched Google Ad Grants, it was very much a 'no strings attached' deal. Nonprofit recipients were able to spend $10,000 in free Google Ads credits and use the platform similarly to paid advertisers.
January 2013
Google adds the $2 max cost-per-click (CPC) bid limit, and changes the ad auction to ensure Paid ads are shown above Grant ads
After a couple of initial years running the Ad Grants program, Google updated its policy for grantees. The $2 CPC bid limit as an effort to give priority to Paid ad accounts was a big change. Google adjusted the ad auction to ensure Paid ads always show before Grant ads. While this continues to pose a challenge to grantees bidding on more competitive search queries, there are millions of ad slots available and Grant accounts continue to reach users effectively.
September 2013
Google launches AdWords Express for grantees in the US, UK, Canada, Australia
AdWords Express (now called Smart Campaigns) enabled grantees to create simple, automated campaigns by providing a few details about the organization. While this method lack precision and control, it allowed organizations to get started even without Google Ads expertise. Effectively managing Google Ads accounts requires very technical digital marketing knowledge, so the ability to use automated campaigns is an attractive option for nonprofits without the bandwidth to manage their accounts.
June 2014
Google For Nonprofits launches in Canada
Google For Nonprofits gives charities and nonprofits free access to Google suite features such as Google Apps, Google Ad Grants, the YouTube nonprofit program, and more. Google For Nonprofits is now mandatory for organizations applying for the Google Ad Grant. Whether you choose to apply for the Grant or not, Google For Nonprofits is an incredible resource.
August 2014
Google updates the active account management policy to require that grantees sign in to their account at least once per month
As the program grew, Google recognized that some grantees were not actively managing their ad campaigns. Advertisers running outdated ads or untailored ads could compromise the integrity of the search engine. To prevent this, Google began suspending Grant accounts that were not accessed at least once a month. The policy update encouraged grantees to invest more time and effort into managing their ads and maintaining high-quality campaigns.
January 2015
Google Ad Grants sends out its first satisfaction survey to grantees
As more and more organizations signed on to the Google Ad Grant, Google invested more energy into learning how they could adjust the program to better serve grantees and have the greatest impact. 
September 2016
Google announces they will no longer accept applications for the Google Ad Grants Pro program, which gave select grantees an increased budget of $40,000 per month
While it was not widely advertised, Google recognized organizations meeting certain criteria (related to ad spend, conversion tracking, clickthrough rates, and management) by upgrading their monthly budget to $40,000. While this program has been phased out, those who were granted the increased budget were able to keep their additional budget and are still using it today.
Grants Pro account holders must exceed a spend of $10,000/month, otherwise they may have their Grants Pro budget permanently rescinded.
January 2018
Google Ad Grants announces new compliance policies
In January 2018, Google announced some of the most major changes to the program's compliance policies to-date. Google put in place a number of performance-related policies to ensure nonprofits used Grant accounts properly and regularly.
Google began suspending accounts that were not compliant on a monthly basis. While grantees are able to reactivate their accounts by making required changes and submitting a review, this new policy was a wake up call for how diligent grantees need to be about managing their accounts.
Google pushed grantees to move away from broad keywords and focus only on highly relevant traffic. This resulted in decreased traffic to Grant accounts across the board. However, the focus on relevance helped drive more meaningful engagement, and conversions began to increase after these new policies were released.
August 2018
Google launches the Certified Professional Community
As Grant account maintenance became more and more involved, Google recognized marketing professionals managing Grant accounts at an exceptionally high standard. Professionals and agencies accepted into the exclusive Certified Professional Community would be able to share feedback and access more support from the Google Ad Grants team.
It was a game changer when ConnectAd became a Google Google Certified Professional Agency in 2019. Not only do we have more support from the Google Ad Grants team, but we also have opportunities to participate in betas and experiments, which in turn improves our clients' experience.
September 2019
Google streamlines the communication loop for Certified Professionals to get in touch with the support team
In November 2019, Google requested that the Certified Professional Community take mandatory action to enable value tracking in certain accounts. Over the years Google has increasingly pushed for meaningful conversion tracking in all Grant accounts. This works towards the ultimate goal of helping organizations accurately report and understand the impact of the Grant.
Google leaned on the Certified Professional Community to implement this across various accounts, and provided support from their tag assistance team. Meaningful conversion tracking continues to be one of the most important parts of Grant account management.
November 2019
Google tests out increased budgets for select grantees managed by the Certified Professional Community during the giving season
During 2019's giving season, Google tried increasing budgets for those consistently maxing out their grant during this high value time. In order to apply, grantees had to meet criteria for tracking valuable conversions. That way, Google would be able to properly understand the results of their giving season initiatives. As of May 2020, haven't had an update yet on the results of the program.
December 2019
Google releases a live Account Review Dashboard that tracks policy compliance and new best practices
Since the compliance policy update in January 2018, managing compliance has been a challenge for grantees. It isn't uncommon to be suspended with what seems like little to no warning. In December 2019, Google released a live Account Review Dashboard. The dashboard shows your accounts' adherence to compliance standards, and will indicate if action needs to be taken. In addition, Google also included a new set of 'best practices' recommendations based on high performing accounts. 
The Account Review Dashboard is a great place to diagnose account health and determine where action needs to be taken. However, this a new initiative from Google and will likely go through updates and fine tuning. You can read more about the dashboard in our ultimate Account Review Dashboard guide.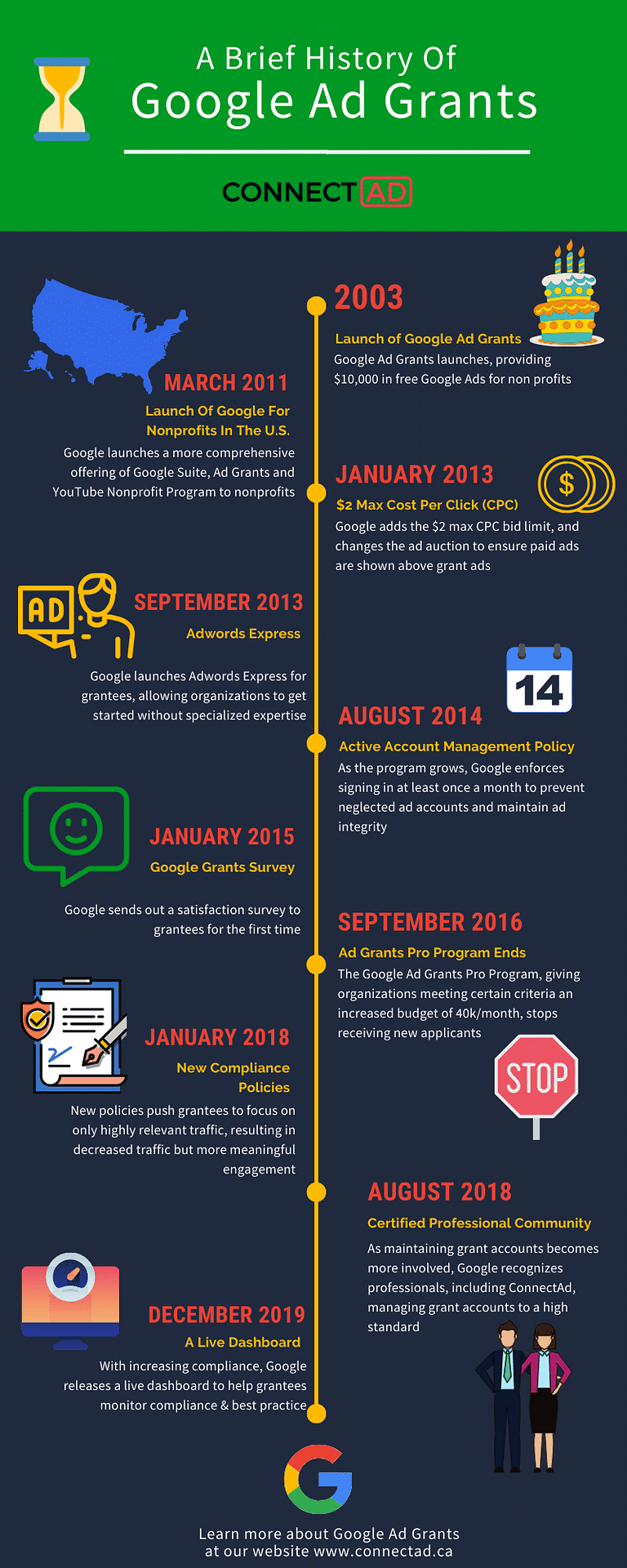 We've seen the Google Ad Grants program improve significantly over the years in terms of how it can serve nonprofits. With a stronger focus on highly relevant ads, Google Ad Grants drives valuable traffic to nonprofits' websites. And through a greater emphasis on meaningful conversion tracking, we are able to measure the Grant's impact with real data.
While Google Ad Grants have become more difficult to manage, their potential to serve nonprofits meaningfully is greater than ever. Check out our success stories to see how we have managed Grant accounts to drive results and grow the impact of our nonprofit clients.