In April of this year, Google announced they were making it free for any organization to list products for sale in Google Shopping listings. For nonprofits that sell physical goods, this means you can now have your products appear as organic results in the Google Shopping tab. Better yet, depending on the type of products you carry, you also have the potential to appear in Google Images and Google Search. This new program is a wonderful opportunity for nonprofits to supplement their Google Ad Grant and extend their reach on other Google properties.
This new program is called 'Surfaces Across Google'. We've been studying it since April — here's a technical guide on what we've learned.
About the Surfaces Across Google Program
Steps To Listing Your Products
What We've Learnt From Using It
About the Surfaces Across Google Program
The "surfaces" refer to specific parts of the Google search domain, Google Shopping, Google Images, and Google Search. Merchants can sell their products by signing up and listing them in organic Google results. There are three areas in Google that these organic listings can appear.
1) Google Shopping tab – Below paid shopping listings
2) Google Images – In the results, denoted by a tag "Product"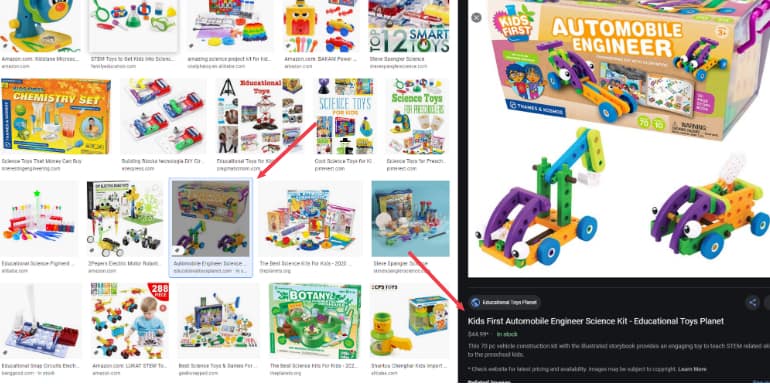 3) Google Search – As "rich snippets" in search results (in the US only)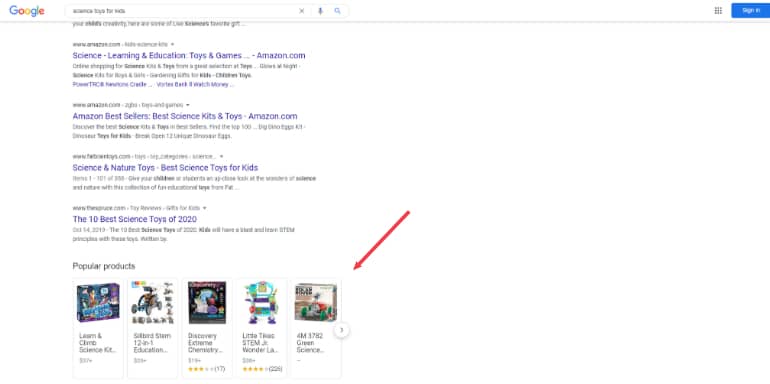 What's Changed
Previously you could only have Google Shopping Listings by paying for ad placements via Google Ads. Advertisers would have to pay-per-click on the ad. Now, approved merchants can list products for free with the option to use Google Ads to run it as a sponsored listing.
The model is similar to how Google search results currently work. In search, Google may display your website for free in the organic section, but reserves the top of the page for paid, sponsored listings. Similarly, Google Shopping Listings will have a section for paid listings that appears above the unpaid organic listings.
Who Would Benefit From This
Google Shopping Listings are best suited for nonprofits with stores, either brick-and-mortar or online, that sell physical goods. This is because Google has many policies around what products are allowed to be listed. The basic requirement is that it must be a physical product with tangible value.
For instance, if you offer a service, that wouldn't be eligible for listing since it's not physical. If you're a performance organization, tickets are also not allowed because despite the ticket being physical, it doesn't hold inherent value.
Steps To Listing Your Products
At a high-level, there are three main steps to go through:
1. Get a verified Google Merchant account
This includes verifying your ownership of the domain where your shop exists.
2. Setup your shop according to policy
This includes making sure you have the appropriate info on your store page, like displaying a minimum of two methods of contact, and having site content that explicitly defines store policies such as return and shipping.
3. Setup your product "feed"
This includes either integrating your list of products from an existing platform like Shopify with the Google Merchant Centre, or organizing your product data into a spreadsheet that Google can read from. In addition, each product must list certain attributes required by Google before it's eligible to be displayed. For instance, item name, description, image, availability, price, shipping cost, tax cost and more.
What We've Learnt From Using It
After using Surfaces for Google, we've learnt a few nuances that aren't obvious.
1. This new program is still considered a beta version. As a result, users may notice bugs with the platform or the process of getting approved. In one case, we were getting some product listings disapproved despite being in compliance.
2. It takes longer than advertised to be approved. The stated timeline for a product approval was 5 business days. It took us considerably longer to get reviewed. This delay is partially compounded because the Google team has been impacted by COVID-19.
3. There is a hidden subjective component to getting your products approved to be fully listed in Google Shopping results. Fundamentally, Google is looking for merchants they trust, and are examining each organization for certain trust factors.
Need Help?
If you are a nonprofit with a product revenue component and you want to avoid having to review and digest all of Google's policies, our team can help. We'll consult on what changes you need to make to get your store up to policy, and advise on how to build those trust factors to maximize your chance of being approved. We can also coordinate your product feeds, both in terms of technically integrating it with Google, and making sure each product contains the right data to be approved for listings. Contact us today.