For many nonprofits and charities across the world, end of year giving is the most important fundraising appeal of the year. But the 2020 giving season isn't business as usual. As more campaigns go virtual and your nonprofit adapts to the new normal, the Google Ad Grant and other digital marketing channels will be more crucial than ever for your year-end fundraising strategy.
We want to share our knowledge of nonprofit digital marketing during the giving season to help you connect with your audiences and reach new donors safely, remotely, and effectively. No matter the size of your organization, these tips will prepare you for year-end traffic with high-quality campaigns tailored to your goals.
Read on for our 8 top tips to make sure your Google Ads are ready for Year End Giving.
1. Make It Special
Year-end giving is a great time to compel your audience with creative seasonal messaging. In order to make your ads stand out, switch out generic evergreen copy for more seasonal phrases and calls-to-action. Rather than creating a whole new campaign in your Google Grant account, try sprucing up your current donation ads by:
Adding seasonally-relevant ad copy, like a headline to "Donate This Giving Season"
Updating the landing page with a message about the holidays

Highlighting any special giving season ask. Are the donations during giving season going towards a specific program or initiative or will donors be doubling their impact by giving during the giving season period? Let your audience know. 
2. Learn How To Ask
It's important to learn how your donors prefer to be asked—the results may surprise you. Try creating A/B tests in the Campaign Drafts and Experiments tool in Google Ads to see what ad copy speaks to your donor audience. You might want to test being explicit in your call-to-action versus more subtle wording like "Support" or "Help" instead of "Donate." You'll be able to see what ad copy works best and use your findings again in the next year's end of year giving campaigns.
3. Leverage Cause-Based Searches
While some people do search on Google for  "organizations to donate to" or "year end giving," people are more likely to make donations while searching for local causes or a cause they're passionate about. Awareness-based traffic is crucial for reaching new donors that don't yet know about your brand.
Local non-profits: Highlight your locality in the keywords you target and the ad copy you write. Many people prefer to donate to a local organization that benefits their community.
Cause-based non-profits: Add informational content to your donation page to give the user more context about your cause and help raise awareness and donations at the same time.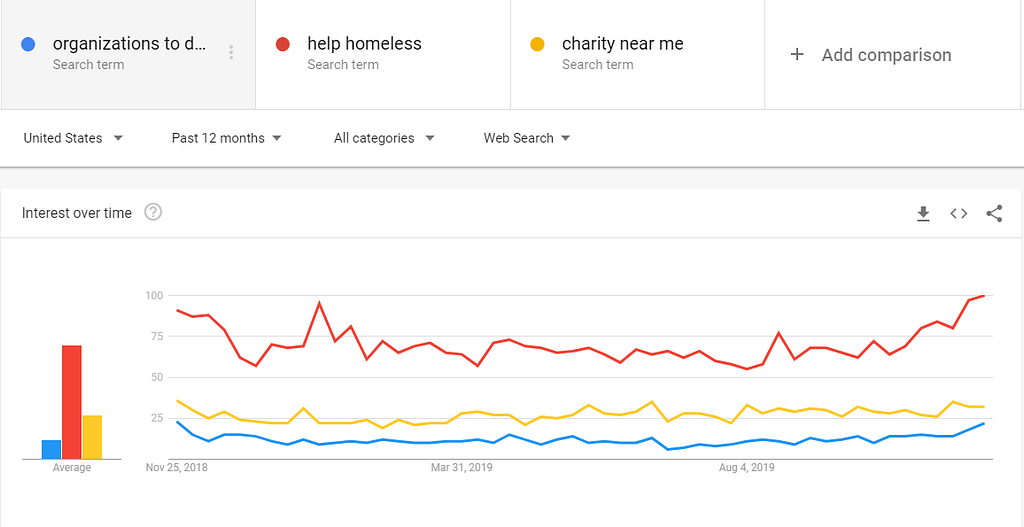 This snapshot from the Google Trends tool shows the trends for donation keywords "organizations to donate to" and "charity near me," versus the cause-based keyword "help homeless." Cause-based keywords generally do far better.
4. Choose The Right Bid Strategy & Track Donations
These two simple changes can make a big difference to your year end giving campaigns. By using the 'Maximize Conversions' bid strategy for your campaigns, Google's automated bidding algorithm learns to show your ads to the users most likely to engage or donate. Google Ads caps bids at $2.00 per keyword unless you use an automated bidding strategy, which gives your ads a chance to show for keywords that are more competitive. 
Tip: Before you set your bid strategy to Maximize Conversions, make sure you are tracking donations as conversions by either using event tracking on your donation buttons, or destination page tracking on Thank You pages.
5. Pay Attention To Landing Pages
Landing pages are crucial to your year end giving strategy. You need to go the extra mile to sustain a user's attention once they land on your website and give them a reason to donate. Here are a few best practices for encouraging users to stay and engage:
A clear call-to-action that allows them to donate online in one easy step
Information or success stories about where or who their donation is going to
Relevant, eye-catching visuals that add depth to your cause
6. Use Dynamic Donation Amounts
As part of your landing page revamp for end of year giving campaigns, consider adding dynamic donation amounts, or a range of suggested monetary amounts that users can choose from. Dynamic donation amounts can increase donations by 20%. Implement these effectively by adding a short description of what each monetary amount can support.
For example, instead of asking a user to "Donate $10 to support rescue dogs," add specific illustrations to a few different values:
"Your $10 donation provides food for one week for a rescue dog"

"Your $30 donation supports one month of veterinary care"

"Your $50 donation provides one month of food and housing for a rescue dog"
7. Consider Paying For Your Ads
If you've never run Paid Google Ads before, the year end giving season may be the time to try. While the Google Grant is an incredible resource, running Google Grant Ads and Paid Google Ads at the same time can help you reach even more of the right people.
The Google Ad Grants FAQ page says it best: "To stand out from the crowd, especially during critical times of the year such as year-end giving season, nonprofits can consider investing in a paid Google Ads account to bid on competitive keywords and extend their reach." 
Invest in  Paid Search Ads strategically around Giving Tuesday or the last few days of the year by using broad match modifiers or more narrow match types to ensure high relevance. You can also set up a remarketing audience and run Search or Display Ads that target people who have engaged with your website in the past (and are therefore more likely to engage again).
8. Cover All Your Bases
It's important to think holistically about your end of year giving strategy. Google Ads is first and foremost based on searches, so you may miss out on potential donors if your organization and cause is an "unknown unknown" that they have not thought to search for.
Make sure you leverage social media, YouTube ads, email marketing, or even traditional leafleting to reach your audience. Chances are that users will engage with more than one of these channels before making the decision to donate, so consistent messaging is key.  
No matter how you approach the giving season, make sure you give yourself credit for how much resiliency your nonprofit has shown in light of this year's events. We are inspired by your tireless efforts and commitment to those you serve, and wish you a safe holiday season.